For attractive lips, speak words of kindness.

For lovely eyes, seek out the good in people.

For a slim figure, share your food with the hungry.

دنباله اين بخش-the continuation of this topic...
نويسنده ويا گرد آوري كننده
Sat 5 Sep 2009
&nbsp |
نويسنده ويا گرد آوري كننده
Sat 15 Aug 2009
&nbsp |
Mevlana Jalalludin Mohammad, the Persian Sufi Sage and Poet, was born in Balkh on the 30th September, 1207. His proper name was Mubammad, title Jalalludin and later "Khudawandagar", "lord". In his poetry he used the pen-name "khamush" (meaning "silent") and from the 15th century came to be known as Mawlawi, the term deriving from his earlier title of Mulla-yi rum, "the learned master of Anatolia". His disciples, such as Ahmad Aflaki called him "The Greatest Mystery of God" (sirr Allah al-a'zam), while the Persian speaking world usually refers to him as Mawlana. In the West where his fame has spread steadily since the 19th century he is usually known as Mevlana Jalalludin, (meaning from Roman Anatolia).
Mevlana Jalalludin's father Muhammad ibn Hussain Khatibi, known as Baha' al-Din Walad (entitled Sultan al-'ulama'), was an outstanding Sufi in Balkh. He is the author of the Ma'arif , a masterpiece of Sufism, which left its mark upon Mevlana Jalalludin's Mathnawi.

When Mevlana Jalalludin was about twelve or thirteen years old (around 1220), Baha al-Din Walad left the eastern provinces of Persia with his whole family and a group of disciples and travelled westward. This may have been as a result of the threat of invading Mongol armies. It is said that in Nayshapur he met the renowned Persian Sufi poet Farid al-Din 'Attar and presented Jalal al-Din to him. Apparently Sheikh 'Attar was very impressed by the young Mevlana Jalalludin, and told Baha' al-Din Walad, 'soon this son of thine shall set the spiritual aspirants of this world afire'.
From Nayshapur Baha' al-Din Walad and his entourage set out for Baghdad where they were highly respected, meeting many of the scholars and Sufis of the city. From there they went to the Hejaz and performed the pilgrimage at Mecca. It was after this journey that most likely as a result of the invitation of 'Ala', al-Din Kayqubad, the ruler of Anatolia, Baha' al-Din came to Asia Minor and finally settled in Konya, a city associated with his family to this day. The family of Baha' al-Din Walad was welcomed warmly in Konya, which was witness at this time to many immigrants from the eastern cities of Persia, since Anatolia offered a peaceful haven in the Islamic world during the turbulent years of the Mongol invasion. Baha' al-Din rapidly gained fame as a religious scholar and Sufi and died with honor when Mevlana Jalalludin was 24 years of age.
Around a year after his father's death, Mevlana Jalalludin met Burhan al-Din Muhaqqiq Tirmidhi, a Sufi master of high quality who was himself a disciple of Baha' al- Din Walad. It was through Burhan al-Din that Mevlana Jalalludin inherited the spiritual heritage of his father and became initiated into the mysteries of Sufism. For nine years Mevlana Jalalludin practiced Sufism as a disciple of Burhan al-Din until the latter died in 1240-1. During this period Mevlana Jalalludin also travelled to Damascus and is said to have spent four years there.
Having become a master of both the Shari'ite sciences and Sufism, Mevlana Jalalludin established a circle around him in Konya, and from around 1240 to 1244, he was occupied with teaching, meditating, helping the poor, and other activities of a religious scholar. It is said that he was a popular teacher and that as many as four hundred students attended his formal classes. In 1244 Mevlana Jalalludin's life was transformed through his encounter with Shams al-Din Tabrizi, who had entered Konya that year after spending some time in Baghdad. Shams was a mysterious and powerful Sufi, who fled social connections. Even his death remains a mystery and he has several tombs which have remained sites of pilgrimage, to this day.

There is no doubt that Shams al-Din Tabrizi was not just a Sufi master for Mevlana Jalalludin. had already practiced Sufism for many years before meeting Shams al-Din. It seems, rather, that Shams al-Din had a spiritual influence on him. Mevlana Jalalludin was the type of Sufi who needed spiritual companionship in order to express himself in words. The companionship that Shams al-Din provided, was so powerful that it transformed the sober teacher Mevlana Jalalludin, into an ecstatic poet. The first poem ever written by Mevlana Jalalludin is in a letter to Shams, and from the time of their encounter until Mevlana Jalalludin's death, the latter never ceased to compose poetry. The spiritual, friendship between these two towering figures is rare in the history of Sufism and has become proverbial in the East.
Harassed by some of the disciples, who had become jealous of the fact that Jalal al-Din spent all of his time with Shams, the latter left Konya. Mevlana Jalalludin became so distressed that he sent him many letters and messages containing his first poems in Persian and Arabic and finally, after having discovered that he was in Damascus, sent his own son Sultan Walad after him. Shams finally accepted to return to Konya, he stayed at Mevlana Jalalludin's home and again the mystical conversation began, leading to a renewed jealousy among some of Mevlana Jalalludin's disciples. On the night of December 5, 1248, as Mevlana Jalalludin and Shams were talking, Shams was called to the door. He went out, and was never seen again. It is believed that he was murdered. The mystery of his absence engulfed Mevlana Jalalludin's world and he searched for him for two years travelling as far as Damascus, but to no avail. It was there that he came to the following realization:
Why should I seek? I am the same as he.
His essence speaks through me.
I have been searching for myself!
Mevlana Jalalludin returned to Konya, began his open instruction of Sufism and devised the spiritual dance (sama), for which the Mawlawi order has been famous for the past seven centuries.
The rest of Jalal al-Din's life from 1249-50 to 1273 was the period of dissemination of Sufism and the esoteric sciences contained in it. He trained numerous disciples, some of whom like Salah al-Din Zarkub Qunyawi and Husam al-Din Chalabi were themselves spiritual guides. According to Mevlana Jalalludin, Husam Chelebi was the one who understood the vast, secret of the Mathnawi, that great work that shifts so fantastically from theory to folklore to jokes to ecstatic poetry. For the last twelve years of his life, Mevlana Jalalludin dedicated the six volumes of this masterwork to Husam.
In December 1273, Jalal al-Din fell ill. He knew that the moment of encounter with the Beloved was near, a moment which for him could not but be the most joyous moment of life.
نويسنده ويا گرد آوري كننده
Fri 14 Aug 2009
&nbsp
From Wikipedia, the free encyclopedia
Feleknas Uca (born17  sep  1976) is a member of the European Parliament from Germany for the The Left. She was at one time the world's only Yazidi parliamentarian until the Iraqi legislature was elected in 2005.
Feleknas Uca was born in Celle, Lower Saxony, West Germany to a Kurdish family. She graduated from Comprehensive School in Celle before taking an apprenticeship as a doctor's assistant, and completed her  abitur by distance learning.
In 1999, aged 22, she was elected to the European Parliament fifth of six places on the Party of Democratic Socialism national list. In the 5th European Parliament (1999-2004), she sat on the Parliament's committees on Culture, Education and the Media and Equal Opportunities. She maintained close links with far left groups in Turkey and, in particular, Kurdish nationalist groups. She was a member of the EU-Turkey joint parliamentary committee. In the PDS' selection of candidates for elections to the 6th European Parliament (2004-2009), Uca slipped to seventh place on the PDS national list, putting her seat under severe pressure. However, in the elections, the PDS secured a slightly increased share of the vote and she was returned in the last successful place.
As of 2006, Feleknas Uca lives in Celle.
نويسنده ويا گرد آوري كننده
Wed 12 Aug 2009
&nbsp |
Born in saliurfa to a homeless family in January 1 1952, Tatlıses was raised by his mother and her boyfriend Naim. His father died, when he was a young child. Music provided an outlet for emotional stress. He began singing at weddings and other celebrations while still in his teens. Although he released an album in 1975, it failed to sell, and Tatlıses temporarily left music. Moving to istanbulwith his family in 1977, he then worked as a salesman until recording his second album, Ayağında Kundura. The success of this album proved to be the launching pad for Tatlıses. An important star during the 1980s, he recorded numerous folk dance hits with the accompaniment of an orchestra and was recognized as a master of the rural uzun hava style, marked by lengthy, semi-improvised tunes. Ibrahim Talises has worked with the best directors, and best Arabic singers like Omar Elmir (Ibn Yaol) from Lebanon
In December 2003, Tatlıses was criticized when he sang a folk song in Kurdish on the İbo Show. The incident sparked protests and boycotts by Turkish nationalists and an assassination attempt
Tatlıses initially stood as an MP candidate in the July 2007 Turkish elections and lost. In March 2008 he released the album Neden ("Why"). Tatlises, with no doubt is great singer and he can easily high pitch his vocal from three to five musical scales.
نويسنده ويا گرد آوري كننده
Wed 12 Aug 2009
&nbsp |
KERMANSHAH
 The capital of Kermanshahan Province, in an altitude of 1, 630 m above sea level, Kermanshah is 525 km to the southwest of Tehran. It can be reached either by air or via Hamadan (190 km), partly on a highway and partly on a first class national asphalt road.
  Being a populous city of 631,199 inhabitants, mainly Kurds, Kermanshah stands, like Hamadan, on the great highway that connected Baghdad and the West with Iranian Plateau. The town's situation is highly picturesque, and it is one of the liveliest market centers of the province, where you will meet a large number of Kurds and mountain peasants once famous as warriors. These Kurds still speak their own language among themselves and remain faithful to their testamentary traditions: the men wear large turbans on their heads and black dungarees tight at the waist and at the ankles. The women wear trousers and bright-coloured scarves and sometimes brocade bodices, but they are mostly changing into urban type of dress, particularly in towns.
First built on a site a few km from the present town, it probably dates from the 4th century AD. Its vulnerable position has always rendered it liable to incursions, and it was in turn captured by the Arabs in 649 AD, the Buyids in the 10th century, soon after by the Seljuks, and then sacked by Mongols in the early 13th century. After several centuries of relative peace and prosperity, its strategic position on the road to Baghdad brought trouble in the form of very heavy Iraqi missile and bomb attacks during the Iraqi war against Iran.
Modern Kermanshah is an important agricultural and a burgeoning industrial center. In the surrounding country fruit of many kinds is grown; another local product is sugar-beet. Carpet-weaving and manufacture of givehs (canvas covered shoes like the Spanish alpargata in appearance) have long been carried on in the town. Since the construction of an oil refinery on the banks of Qara Su River in 1935, motor spirit and other petroleum products have been processed there for consumption in northern and north-western Iran.
However, the present Kermanshah does not seem to be of any great interest, especially for a foreign visitor. And although it is not, relatively speaking, an old town, there are some very ancient remains in its neighborhood, which suffice to attract the attention of the interested tourist. It has a beautiful setting, framed by permanently snow-clad mountains. Kermanshah is best avoided in winter, but the climate is very pleasant for most of the rest of the year.
Giveh: the Comfortable Traditional Shoe
Giveh is the name of a sort of traditional foot-ware made from strong, coarse cotton cloth in Iran since many centuries ago. The upper cotton is sewn to a leather sole to make one of the coolest, most comfortable, and sturdy traditional shoes that exist in the world. In northwestern, western, and central parts of Iran, people have traditionally worn givehs. When it comes to making these traditional shoes for women, the giveh makers spend longer time, particularly when they decide to decorate the upper surface with beautiful designs. The upper cloth may be either of cotton or silk, and the quality of the material used for the sole depends on the income and social status of the people for whom gives are made. The best quality giveh is produced in Kermanshah and Abadeh.
Kermanshah Museum
Kermanshah Museum is located in Dr Shari'ati Avenue, Shahid Haddad-e Adel Street, in a famous building called Takyeh Mo'aven ol-Molk (locally known as Hosseinieh), which is one of the historical monuments from the Qajar period. Built in 1890 AD, it was finally handed over to the former Ministry of Culture and Art by Mo'aven ol-Molk family. The building consists of the following three sections: A) Hosseinieh; B) Zeinabieh; and C) Abbasieh. The latter section with its beautiful painted walls, is built in two floors, of which the second floor is allocated to the exhibit of ethnological articles. The first floor is planned to be allocated to the display of archaeological exhibits in future. For centuries, the building acted as a popular court with religious significance. Parts of the building that have been damaged during the Constitutional Revolution were repaired and renovated in 1912-13 by Mo'aven ol-Molk, the last private owner of the building.
Visiting Hours: everyday 08:00-12:00 a.m., except Fridays, Tel: (0431) 23777.
EXCURSIONS AROUND KERMANSHAH
Buildings and places of interest around Kermanshah are as follows: the Rock Carvings and Inscriptions of Darius I at Bisotun, 32 km east of Kermanshah, in addition to which you will see the relief of a bearded reveler (probably Hercules) with a goblet of wine recently discovered near the main road; the Relief and Inscriptions at Taq-e Bostan; the two Staircases of the Temple of Anahita at Kangavar; the Taq-e Gara (believed to be Sassanian, but the actual date is the subject of much controversy) near the top of the Pay-e Taq pass, approximately 90 km west of the town; the Ruins of Dinavar (dating from the Seleucid era to the late 14th century AD), 45 km east-northeast of the town; the Mound of Kambadene (from Achaemenian to Sassanian times), just to northeast of Kermanshah; and Dokkan-e Davoud (David's Shop), a Median Tomb of 7th century BC, 3 km from Sar-e Pol-e Zahab, which shows a praying man on a rock piece.
Bisotun
The Bisotun (or Behistun) mountain stands some 30 km to the northeast of Kermanshah via the main road to Hamadan, which itself follows the ancient caravan route along the bottom of a fine velvety fawn-colored cliff. Long before Achaemenians, even prehistoric man inhabited Bisotun according to Carleton Coon, who found while excavating a cave there in 1949 evidence of a highly developed industry datable to the Middle Paleolithic, indicating that Bisotun was inhabited during the Wurm glaciation.
On the roadside there are Achaemenian inscriptions and relief engraved high up (100 and 40-50 m above the ground) on the Bisotun cliff, which attract the attention of tourists, travelers, and passengers-by. Henry Rawlinson, then subaltern in the British Army, copied the trilingual inscriptions in 1833 and 1834 and eventually began the process of deciphering the Akkadian script which until that time had baffled scholars. Again in 1948 Dr G Cameron of Chicago University could correct some of Rawlinson's errors.
Altogether twelve hundred lines of inscriptions tell the story of the battles Darius had to wage in 521-520 BC against the governors who were trying to dismantle the Empire founded by Cyrus. The decisive battle took place on this site.
A bas-relief portrays the King's victory; unfortunately the scene showing him with his main enemy at his feet and nine rebel governors enchained, is some 50 m above ground level and is hardly visible without the use of binoculars.
The tablet of Darius I is high up on the side of the cliff over the village of Bisotun which stands to a large pool. Below the tablet is a staircase up to a platform, from which you can see a shallow recess containing an inscription in Greek and a rather worn mid-second century BC sculpture of Hercules (Heracles) on the back of a lion. These sculptures, inscriptions and tablets of considerable dimensions, comprise the figure of Darius I, tall and with attractive features, while Ahura Mazda'' symbolic celestial figure can be seen hovering above his head. Darius has stretched his right hand toward this deity and with his left foot he is trampling upon the rebel Gaumata (pretender) lying prostrate at his feet. Two persons are standing behind Darius, while nine governors from different nations are seen before him with their hands tied behind their backs and a cord running around their necks. The name and nationality of each rebel governor have been inscribed as follows:
Atrina (of Susiana)
Nidinter-Bel (of Babylonia)
Faravartish (of Media)
Martiya (of Susiana)
Citrantakhma (House of Sargartiya, in Media)
Vahyazdata (Smerdis in Persis)
Arakha (of Babylonia)
Frada (of Marv)
Skunkha (the Scythian)

The latter figure, wearing a rather tall hat, seems to be later addition. The three languages used in the inscriptions are Babylonian, Elamite, and the Old Persian. The inscriptions are also known as the Longer and the Shorter. The former consists of Ahura Mazda's praise and adoration, the genealogy of Darius, and an account of the events of his reign, his views, beliefs, recommendations, and comments. The Shorter inscription deals with Darius' lineage and a number of events taken place during his reign.
These sculptures seem to have been intended to give a true picture of those represented. The Achaemenian sovereign, for instance, wears a garment with folds at the waist. He is 180 cm high.
One of the two prisoners (governors) standing behind the King, bears the royal bow and arrows, while the other is holding the King's spear. The figure of Ahura Mazda is seen above the heads of the prisoners, with a winged sun-disc (which is the symbol of eternity) encircling him. In the inscriptions, Darius gives the names of his ancestors and says: "Eight of my family were kings before me. I am the ninth. We inherit kingship on both sides."
The Bisotun sculptures (measuring 5.48 by 3.04 m) are of the highest historic importance and have been created in 480 BC, the sixth year of Darius' reign. It would take the best part of a day to explore everything, although most visitors are happy merely to see these famous relieves. Because of the lighting conditions, it is better to visit the site in the early morning and then move on to Taq-e Bostan.
There are plenty of remains at this site. Within easy reach of the cliff there are a Median citadel, the walls of a Parthian settlement, a stone block carved with three Parthian figures, the foundations of a Sassanian bridge, and a grotto with evidence of occupation in Neanderthal times. In Bisotun, there are several places to eat.
Taq-e Bostan
The bas beliefs at Taq-e Boston (Arch of the Garden), 6 km northeast of Kermanshah, are, with one exception, the only Sassanian rock carvings outside Fars Province; they are also the latest of Sassanian carvings. The Sassanians carved majestic sculptures out of the living rock, mostly in their native province of Fars, designed to exalt their kings and perpetuate their fame. Taq-e Bostan is discovered along the avenue now floodlit: the favourite excursion place of the townspeople. The bas-reliefs decorate two grottoes, large and small, which have been cut out of a rock cliff rising high above a pool of clear water, which recalls the Sassanian site at Darab (Fars Province).
The first one you come to is a majestic bas-relief depicting the investiture of Artaxerxes II, at the same time celebrating a victory over the Romans, by the deity Ahura Mazda to the right and Mithras, holding symbolic sacred bunch of twigs, to the left. The next is a small arched recess carved out of the cliff in the 4th century AD, showing Shapur II and his grandson (later Shapur III), created by the latter as a testament to his own dynastic credentials. The third is a larger grotto, with a lower panel depicting an armored figure holding a lance and seated on a now headless horse, and an upper panel showing a royal investiture. Both are believed to represent Khosrow II, a contemporary of the Prophet Muhammad. The inner walls of this remarkable monument are decorated with relieves of royal hunting scenes, together with a much later addition, a coloured picture of three royal prices added at the time of Fath Ali Shah (Qajar). On the symmetrical facade are two winged angels above some simple floral relieves.
The side-walls have scenes of a royal boar hunt and a royal deer hunt (on the right and on the left, respectively). The hunting party was accompanied by ladies of the court and musicians, all of whom are shown in a style very different from that of the traditional sculpture of the West: this is the art of a jeweler or the miniaturist, the wall being treated as if it were a crown to be covered with precious stones.
Originally decorated in bright colours, the figures are more formal and stylized than those of the Darius relief at Bisotun. The site is fenced off and attended by a curator from the Ministry of Culture and Islamic Guidance. It is open more or less throughout the hours of daylight, but it is best to come in the mid-afternoon, after visiting the site at Bisotun.
Here, like Bisotun, there are many places to eat: pleasant restaurants with a selection of fried chicken, kebabs and sometimes fish.
Kangavar
TEMPLE OF ANAHITA: This is one of the architectural monuments of ancient Iran, with its history going back to the Parthian period (200 BC), recently unearthed at Kangavar, 90 km to the east of Kermanshah, and on Hamadan Kermanshah road.
The worship of Anahita – goddess of abundance and guardian of water in ancient Iran, and goddess of beauty and fecundity in some other countries – was broadly practiced during the Parthian period. However, nothing is said of her existence in numerous Achaemenian inscriptions. The cult of the goddess and the building of temples to her, continued during the Sassanian period. Despite historical references to the temple, its location and architectural decorations by few Muslim and Greek geographers and historians, the greatest bulk of material evidence on the history of the temple and the cult has been gathered as a result of excavations carried out at the temple site on an outcropping rock.
The temple building is a rectangle with its facade to the south. The platform is higher than the ground by several steps, which have completely disappeared. A small mosque has been built to the west, and on the northwest of the temple is a lane along which the best preserved and the most important part of the building is to be seen. This part of the temple is placed on a beautiful foundation of white marble. At this point there are nine white marble columns built into the mud-brick walls of the houses providing a good support for the buildings of the villagers.
Walls, wide steps and marble columns, represent a combination of Irano-Greek architectural styles. Its fortifications have excited archaeologists, although there is no longer that much to see.
Qassr-e Shirin
CHAHAR TAQI: Also called Chahar Qapu, it is a square fire-temple of stone and gypsum with an area of 586.60 square meters, which belongs to the Sassanian period and is considered to be the greatest of its kind in that epoch. It is a square structure with a domical roof, and there seem to have existed some corridors around it. The building bears perfect resemblance to the Sassanian temples. Its main facade is over 16 meters wide. This is one of the historic sites heavily (up to 90%) damaged during the Imposed War of Iraq against Iran (1980-88).
Sar-e Pol-e Zahab
TAQ-E GARA: In the district of Sar-e Pol-e Zahab, in the heights known as the Gate of Zagros, there is a gorge called Pa Taq. Adjoining the Pa Taq path, there can be seen a simple stone structure, somewhat like a grotto, which is known as Taq-e Gara. At the entrance of this structure, there is a cradle-shaped arch cut as corridor into the mountain and consisting of large rectangular blocks of stone. Inside the grotto and the arcade there are some graceful remains of the Ashkanian and Sassanian structures. According to some archaeologists the structure was intended to be used for occasional royal stop-overs, while other consider it as landmark on the borderline.
THE ANUBANINI SCULPTURES:
The bas-relief figures of 2800 BC attributed to the Semite King Aubanini can be seen on the mountainside at a height of 35 meters, with his left foot on a prostate prisoner while receiving two more prisoners from the Goddess Nana. Under this sculptured scene, there are the figures of six more prisoners, also carved in relief. They are naked, with their hands bound at the back and presumably being led from left to right by their king who can be differentiated from the rest by the crown that he still has on his head. The sculpture possesses an inscription concerning Anubanini's victories. The skill manifest in these sculptures, and various designs and ornamental strokes adorning them, have been a source of amazement and admiration to the archaeologists and to those who have scrutinized in the inscription.
ADDRESSES AND TELEPHONE NUMBERS

ACCESS AND DISTANCES:
520 km to Tehran. 177 km to Hamadan. 136 km to Sanandaj. 188 km to Ilam. 192 km to Khorramabad.
ACCIDENTS:
27777, 22166
AIR AGENT:
Homa (Iran Air) On Dr Beheshti Blvd, by 22nd Baham junction 51875, 53814
Soheil, Ashrafi Esfahani Street, 77111-5

AIRPORT:
Ten km out from the new bus terminal on Shahid Keshvari Blvd near Imam Khomeini square 57633 and 56626
BUS TERMINAL:
On Shahid Keshvari Blvd near Imam Khomeini Square.
Cooperative No 1: 52200, 22877.
Cooperative No 4: 52400
Cooperative No 5: 52500
Cooperative No 6: 56600
Cooperative No 15: 56145, 28342

CITY DIALING CODE NUMBER:
The dialing code for Kermanshah is 0431
DRUG STORE (24-HOUR):
Azadi, Karegar Street 39129
Razi, Modarres Avenue 22434
Sajjad, Mo'allem Street 26793
Sina, Modarres Avenue 22970.

EMERGENCIES:
Ayatollah Taleghani Emergency Clinic, Dr Beheshti Street 115, 58126
FIRE STATION:
112, 34444, 24444
GOVERNOR'S OFFICE:
Ostandari 28017-8, 22242
Farmandari 51071-5, 58010
MEDICAL SERVICES:
Imam Khomeini Hospital, Taq-e Bustan 25110, 29962.
Rashidi Health Department Clinic No 7, Vahedi Street 29067
Razi Hospital, Dr Behesht Blvd 58047-8
Taleghani Hospital, Taleghani Street 58751

MUNICIPALITY:
22447-9 Public Relations: 26041
POLICE:
On Modarres Street between Safavi Junction and Azadi Square Tel: 110, 23716, 22161-4, 22171. Road Police: 28911, 50650, 39116.
POST AND TELECOMMUNICATIONS:
The main post office is on Sepah Square, and the main telephone office is on Madani Street Tel: 52440-1, 33333.
RESTAURANTS:
Best restaurants can be found around the city center Taq-e Bustan, and Bisotun. Use the opportunity of staying in Kermanshah to try some of the excellent rice cakes (nan-e Berenji) for which the town is known.
Alimorad, Municipality Parking ,20574
Behnam, Next to Ghareh Su Bridge, 52328
Chelcheleh, 22nd Bahman Street, Bargh Street, 52072.
Gol, Ayatollah Kashani Street, next to Azadi cinema, 27828
Homa, Ayatollah Kashani Street, 34246
Jamshid, Taq-e Bostan, 44185
Malakuti, Kashani Square, 24338
Maysam, Next to Former TBT Garage, 34244
Nayeb, Jomhuri Eslami Square, 24338
Orkideh, Next to Ghareh Su Bridge, 54017
Vali Asr, Modarres Intersection, 39615
Yass, Shahid Beheshti Blvd, 57261

TAXI AGENT:
Amir, 22nd Bahman Street 58601
Azadi, Shahid Ja'fari (Kasra) St, 22822.
Homa, 15th Khordad Highway, 55155
Motahari, Karegar Street 37832
Pouria, Rahmanpour Street, 20128
Roz, 17th Shahrivar St, 50056

TOURIST MAP:
Available in English and Persian
TOURIST OFFICE:
On Beheshti Street, near 22nd Bahman junction and a few meters from Iran Air 55472-3
نويسنده ويا گرد آوري كننده
Wed 12 Aug 2009
&nbsp |
Repeating  positive  statements such as "I'm a loveable person " or "I will succeed"makes  some peoples  worse about themselvesinstead of  raising their self –esteem,a study showed.
"from at least  as far back  as norman Vincent  peale's (1952), the power of positive thinking ,"the media have advocated saying favorable things to oneself,"said the study by  Canadian psychologists,which was published in psychological science."
It cites a popular self-help magazine that advises it readers to : try chanting :I'm powerful I'm strong and nothing in this world can stop me," but says the practice doesn't  work for every one,afp wrote.
Positive self statements make people who are already down  on themselves ,feel worse rather than better found the new study conducted by psychologists joanne wood  and johnlee of the  university of the waterloo  and Elaine perunovic of the university of  new burnswick .
 For the study the ps'ycholog ists asked people with  low self-esteem and people with high self-esteem to repeat the phrase :"I'm a love able person ,"and then measured participants ' moods  and feelings  about themselves .
What they found is that individual s who started out  with low self –esteem felt worse  after repeating  the positive self 
statement.
Iran Dayli
نويسنده ويا گرد آوري كننده
Fri 7 Aug 2009
&nbsp |
Today we need unity more than ever .
Some West's puppet Arabian countries attempt to push our country to brink of civil war.
I beg my countrymen to be vigilant of field of politic affairs, there's nothing benefit like about civil war and social cataclysm without having an organized ideology. in deed our country couldn't realize what they want , our people usually go to extreme, from all aspects of life like drinking ,pleasure seeking, worshipping god , etc.
Firstly all of us must regenerate our moral after moral regeneration, we can reform the social structure of our country. Unfortunately our nation are so disorganized and chaos and anarchistic acts is an inseparable part of our daily life , driving and team working for instance , can make many spiritual matters of us clear . For instance yesterday our people celebrate 12th imam's birthday, after eating and drinking they discard leftovers at street.
These acts defame imam Mahdi's followers).)
Unfortunately from cultural and behavioral viewpoint our people have structural difficulties and government isn't Iranian sole problem. Briefly I go on to say that if you would like your country, firstly must change your mind and your manner after that everything will be amended spontaneously.
Today we need unity and contemplating more than ever.
Adelante.j
نويسنده ويا گرد آوري كننده
Fri 7 Aug 2009
&nbsp |
Iraqi prime minister nouri al_maleki and Kurdish president massoud barezani pledged Sunday to resolve disputes over land and oil that threatened to spill into fighting.
According to the Washington post ,the conflict between the Iraqi government and the Kurdish autonomous region is seen as the most dangerous threat to to the nation's stability ,and us officials have publicly urged both sides to resolve their their disputes before most American combat troops complete their withdrawal from Iraq by august 2010.
The challenges that face the political process require more meetings and cooperation between all Iraqi people ,maleki said Sunday at a news conference with barezani and Iraqi president jalal talebani , also a kurd(Iranian)I,m very optimistic after this meeting.
Barezani said a Kurdish delegation would visit Baghdad " to solve all the problem".
Sunday's talks were held in a resort town just outside solaymanyah ,the Kurdish region 's second largest city.the dispute between two sides includes a disagreement over a hydrocarbon law to share oil revenue and manage oil reserves ,some of the worled's largest ,demarcation of the border between the country's Kurdish and the arab regions; and the fate of Kirkuk,an oil rich city (Kurdish in nature) with mixed arab and Turkmen minoriyethnicities.
The kurds want to join this genuine
Kurdish city to kurdestan,which produces a fifth of iraq's oil,and and other towns and villages along the border between iraq's arab and Kurdish regions many of them predominately Kurdish.
In the past, barezani has vowednot to give up Kirkuk and demanded a census and a referendum
on the Kurdish city's fate,as laid out in the Iraqi constitution.
But barham salih,the Iraqi deputy prime minister ,suggested that the meetings might lessen the tension.
Reference: iran daily Aug.4,2009
Edited by :adelante
نويسنده ويا گرد آوري كننده
Tue 4 Aug 2009
&nbsp |
نويسنده ويا گرد آوري كننده
Mon 27 Jul 2009
&nbsp |
Would you be content to see my crying
After all thouse little games you put me through
After all I've done for you for you"re lying wouldn't it be nice to tell the truth
Didn't somebody somewhere say your gonna take afall
I gave you every thing
Now here's the curtain call
Shot through the heart as I lay there alone
In the dark through the heart
It 's all part of this gamethat we call love
Adel ante
ahora
نويسنده ويا گرد آوري كننده
Sat 25 Jul 2009
&nbsp |
Turkish prime minister  tyyip erdogan  said on Wednesday  the government was working on steps aimed to solving kurdish problem ,a a cause of decades of violence and poverty in country's south east.
The announcement forecasts by analystsThat Ankara would unveil reforms within a month to pre-empt a 'road map' on the issue which jailed kurdestan workers party(pkk) leader Abdullah ocalan is expected to announce on aug 15,reuters reported.
Under pressure  from the european  union which  Ankara hopes to join ,erdogan's AK  party government has expanded  political and cultural rights  for the country 12 million kurds .
  During the news  conference , erdogan referred to moves  to open  Kurdish language  and literature  departments  in Turkish universities , to supplement the launching  of a state  Kurdish language broadcaster at the start of this year. He did not specify  any further possible reforms.
نويسنده ويا گرد آوري كننده
Fri 24 Jul 2009
&nbsp |
Bisotun is UNESCO World Heritage Site
Bisotun. Behistun inscription is considered as a UNESCO World Heritage Site. The Behistun Inscription (also Bisitun or Bisutun, Modern Persian: بیستون ; Old Persian: Bagastana, meaning "the god's place or land") is a multi-lingual inscription located on Mount Behistun. The inscription includes three versions of the same text, written in three different cuneiform script languages: Old Persian, Elamite, and Babylonian. A British army officer, Henry Rawlinson, had the inscription transcribed in two parts, in 1835 and 1843. Rawlinson was able to translate the Old Persian cuneiform text in 1838, and the Elamite and Babylonian texts were translated by Rawlinson and others after 1843. Babylonian was a later form of Akkadian: both are Semitic languages. In effect, then, the inscription is to cuneiform what the Rosetta Stone is to Egyptian hieroglyphs: the document most crucial in the decipherment of a previously lost script. The inscription is approximately 15 metres high by 25 metres wide, and 100 metres up a limestone cliff from an ancient road connecting the capitals of Babylonia and Media (Babylon and Ecbatana). It is extremely inaccessible as the mountainside was removed to make the inscription more visible after its completion. The Old Persian text contains 414 lines in five columns; the Elamite text includes 593 lines in eight columns and the Babylonian text is in 112 lines. The inscription was illustrated by a life-sized bas-relief of Darius, holding a bow as a sign of kingship, with his left foot on the chest of a figure lying on his back before him. The prostrate figure is reputed to be the pretender Gaumata. Darius is attended to the left by two servants, and ten one-metre figures stand to the right, with hands tied and rope around their necks, representing conquered peoples. Faravahar floats above, giving his blessing to the king. One figure appears to have been added after the others were completed, as was (oddly enough) Darius' beard[citation needed], which is a separate block of stone attached with iron pins and lead
نويسنده ويا گرد آوري كننده
Thu 23 Jul 2009
&nbsp |
Film introducing:
These are the best films which I have seen:
ئAmerican beauty
leaving las vegas
 hitch
devils advocatee
we were no angels
Taken
sweeny tod
forest gump
legend of the lost
gerri megwire
legend of the lost
original sin
sin city
playing by heart
penelope
click
نويسنده ويا گرد آوري كننده
Mon 20 Jul 2009
&nbsp
It is obvious that the chemical warfare is the most and oldest warfare that are forbidden according to international laws. Since they are totally inhuman, nothing but savagery since few centuries ago international conventions prohibit them.
The first international convention for limitation of chemical warfare took place in 1675, when France and Germany signed at Strasbourg agreed for prohibition of chemical shells. Two hundred years latter in 1874, Brussels convention regarding laws of war also prohibited the use of chemical warfare and what ever might cause unusual pain and torment. Before the end of 19 century in 1889, in the International Conference for Peace in Hague of Holland, all the countries participating signed for prohibition of any use of chemical warfare.
Although the three international treaties were signed but in the First World War 1914-1918 the world witnessed a horrible warfare. Enormous casualties due to the use of chemical warfare caused serious deep anxiety at the international community, that caused one of the most important convention of 1925, in Geneva for prevention of use of any chemical or microbiological, warfare that most of the countries including Iran and Iraq signed it.
Although most of the countries signed this protocol, but the treaty did not prevent any country to produce chemical and microbiological, warfare and stock them in their depots. Beside most of the countries signed the protocol not to use chemical or biological warfare on the members of the treaty, and in case any country uses the warfare on them they would be allowed to do the same.
In 1971 to complete the 1952 protocol of Geneva the disarmament committee of United Nations prepared the none-development treaty for chemical, biological, warfare and their use known as BWC. This convention made it clear that the use and production and storage of any chemical or biological warfare is prohibited and after 20 years of negotiation the disarmament committee prepared the last supplementary bill in January 13, 1992 signed by 150 countries and the United Nations Secretary. The countries that signed the convention, must get approval in their parliament and would be effective 180 days after the approval therefore in April 29 of 1997, this convention was valid.
From the signing ceremony to the effectiveness of the convention (1993-1997), The International Court of Hague was in charge and after 1997, OPWC an office in Hague of Holland took over the supervision.
Although chemical warfare had an old story, but it was used at the modern time in the First World War. In April 22, 1915 that is known as the birthday of chemical warfare the German army used chemical warfare in the city of Iper in Belgium, and killed thousand of soldiers. Since then both side used chemical warfare regularly against each other. It was in this period hat mustard gas was used for the first time by German army in 1917.
The heavy casualties of the Firs World War, over a million with 90 thousand deaths were the result of 124 thousand tons of chemical warfare. Although the use of chemical warfare was forbidden after Geneva Convention of 1952, but many countries between the two wars were developing and storing all kinds of chemical warfare. Fortunately in Second World War (1939-1945) it was not used may be they were afraid of the disaster and the fact that it could have get out of control. Hitler was injured by chemical warfare in the First World War and aware of the danger. Chemical warfare were used partly after the World War, like the use of Agent Orange in Vietnam, to strip the jungle but never used at large scale until Iraq used it against Iran.
The Iraqi invaded Iran in on September 22, 1980. Since there was disorder after the Islamic Revolution that allowed Iraq to occupy three provinces in Iran. With the mobilization of people Iraq was stopped and they were pushed back gradually, that the pick of it was the liberation of Khoramshar, in June 1982. Afterward military operations continued and Iraqi army was pushed back and Iranian threatening Iraq by controlling important port of Basra, and some part in Iraqi Kurdistan.
At this tie the Iraqi Army could not carry on the war that had started, the balance had changed. Therefore they had to use an evil weapon, chemical warfare against the Iranian soldiers and civilians. The Iraqi Army had used before chemical warfare partly during 1980-1983 in the front to stop Iranian soldiers, but the heavy use of chemical warfare was in operation Kaybar in winter of 1983, Badr winter of 1984 in Majnoun Island, Walfajr November 1985-86 in Fawe, Karbala in southern Basra and Shalamcheh, all the way to the end of the war.
For the first time Iraqi regime used chemical warfare against the civilians in Kurdistan that killed and injured thousand defenseless civilians. The pick of these crime was the chemical bombing in the city of Sardasht in summer of 1988 that killed 4500 people of this city. Beside that many villages like Baneh, Marivan, Noudsheh, Sarpolzahab, and Oshnaviyeh were hit and in one incident in February 1987 the villages of Galehji and Dezli were hit with 300 chemical bombs.
"The U.S. Congress about government-approved shipments of biological agents sent by American companies to Iraq since 1985. These include Bacillus anthracis, which produces anthrax; Clostridium botulinum; Histoplasma capsulatum; Brucella melitenis; Clostridium perfringens and Escherichia coli (E.coli). The same report stated that the United States provided the Government of Iraq with dual use licensed materials which assisted in the development of Iraqi chemical, biological, and missile-system programs, including … chemical warfare agent production facility plant and technical drawings (provided as pesticide production facility plans), chemical warhead filling equipment…" [Great War for Civilisation, p. 212]
Iraqi regime threatened that will aim Iranian large cities with long range rockets containing chemical warfare. Even Hospitals were hit by chemical warfare intentionally by Iraq although against the international convention. The two hospitals hit were Hazrat Fatemeh hospital in Abadan in February 1985 and Soumar hospital in December 1986, that killed 20 with more than 400 casualties, few of the doctors and the nurses were among the victims. The nerve gas used by Iraq is like pestilence used for grass that is highly toxic invented by German scientist before the World First War. This poison will effect the nerve system of the body giving blood, respiratory disorder with high blood pressure and heart beat that kills the person in a short while. The Iraqi regime used Tabon, Sarin and Souman regularly through bombs, canon shell, mortar and Russian Ballistic missile 13, know as Katiosha.
Iran asked the United Nations to send inspectors in March 1984 for verification. Scientist from Sweden, Australia, Spain, and Switzerland were sent for inspection. This delegate examined some of the bombs that did not explode also the casualties in the hospital and gave their report to the Security Consul on March 26, 1984. In this reports the use of chemical warfare, mustard and nerve gas of Tabon has been confirmed.
Amazingly the Security Consul in March 1984 issued a resolution without naming Iraq that the side must respect 1952 Geneva Convention! Iran had never used any chemical warfare and had observed the Geneva Convention. This resolution had no implementation and Iraq name was not mentioned, so Iraq did not care and since he had the green light from USA, used in a bigger scale chemical warfare in February 1984 to March 1986.Halabja




By official request of Iranian government from United Nations, Dr. Manuel Domenigoz one of the expert who have visited Iran, Checked on Iranian casualties send to European hospitals and the second use of chemical warfare was confirmed and handed to the Security Consul by the United Nations Secretary.
The third inspectors were sent to Iran on March 1986 to visit Fawe, where Iraq had used chemical warfare extensively. They interviewed chemical casualties in Ahwaz and Tehran hospital and also talked to many Iraqi war prisoners whom they confirmed the use of chemical warfare by Iraq. A sophisticated report of use of Mustard and Verve gas was provided to General Secretary of the United Nations on March 16, 1986. With this report and sending the casualties to European hospitals in England, Belgium, Germany, Holland, Sweden and Spain the world public opinion turned back and in March 21, 1986 the Security Consul admitted that Iraq is using chemical warfare against Iran.
In spring of 1987, in operation Karbala Iraq used chemical warfare extensively. Sarine gas was used in Ballistic Missiles 13 not only in the war front but also in cities. In Khoramshar all the personal of water refinery they were killed. Also, in 1988 a large area in Kurdistan had been contaminated with Nerve gas and the UN inspectors came for inspection for the fourth time. The inspectors confirmed the use of chemical warfare against the civilians and the number of deaths many women and children. The Secretary general only regretted the increasing use of chemical warfare against the Iranians and declared it against Geneva Convention of 1925 and the Security Consul in May 14, 1987 was upset of the increasing use of chemical warfare but did nothing to stop it.
Iraq was aware that he has the back up of most of the western countries mainly USA and did not care for the United Nations and in June 27, 1988 bombed the city of Sardasht and killed thousand innocent civilians among them mostly women and children. This catastrophic incidence was reported to United Nations with films and pictures and although Iran had asked for UN to visit Iran but nobody cared!
Since Iraq was sure nobody could stop him or better to say he had the green light from them mainly USA he bombed the city of Halabcheh severely. Five thousand (5000) and 7000 casualties are reported on this inhuman act of Iraq. The United Nations did not respond to Iranian demand and did not send any inspectors. Dr. Domeningoz visited Iran by invitation from 28 to 31 of March 1988 and visited Iraq on 8-11 of April and made his report on April 25 to the Security Consul the extensive use of chemical warfare by Iraq.


Ali Hassan al-Majid(علي حسن عبد المجيد التكريتی)

(al-Majid was dubbed "Chemical Ali" by Iraqi Kurds for his use of chemical weapons in attacks against them)



Iran invited the International media to visit Halabcheh and they witnessed thousand civilians, women and children victims of Saddam madness.
"The Iraqis had taken a terrible revenge on the Kurdish town of Halabja for allegedly collaborating with Iranians during Iran's brief Val Fajr 10 offensive in the area. For two days, Iraqi jets dropped gas, made from a hydrogen cyanide compound developed with the help of a German company, onto Halabja, killing more than 5,000 civilians. In Washington, the CIA still supporting Saddam-sent out a deceitful briefing note to U.S. embassies in the Middle East, stating that the gas might have been dropped by Iranians." [Great War for Civilisation p. 214]
It was then that the Security Consul considered a resolution by Germany, Italy and Japan and in May 9, 1988 issued the resolution 612. It was after four years that the Security Consul confirmed the use of chemical warfare without mentioning the name of Iraq without any action to stop such a use again. Since the name of Iraq was not mentioned Iraq did not stop the use of chemical warfare and UN inspectors visited Iran twice more on July and August 1988 and confirmed the use of chemical warfare in Ouchnoviyeh with thousand victims mainly women and children.
At this time the Security Consul had to condemn Iraq since Iran had accepted the resolution 598 for a cease-fire on August 20, 1988, after eight years of imposed war. Finally in August 26, a resolution proposed by Germany, Italy, Japan and England was approved by the Security Consul, in this resolution 620, for the first time Iran was recognized as victim of chemical warfare after the cease-fire. During these four years the Security Consul was in hand of USA and his allies.
In August 2nd 1990, Iraqi regime attacked Kuwait. Saddam was asking more money form Saudi and Kuwait telling them he went to war against Iran for them. Saddam did not get what he wanted therefore he attacked Kuwait.
Few hours after invasion of Iraq the Security Consul met and issued the resolution 660 condemning Iraq and asking to leave immediately without any condition. Four days latter the Security Consul met again and issued resolution 661, with full embargo and boycott of commercial and economical and allowed the use of force against Iraq and Iraq was cut down from the rest of the world. Within four months of Kuwaiti invasion 12 resolutions was issued. In November 29, 1990 resolution 678 allowed the use of military force of USA and his allies against Iraq. Disarmament, the payment of damages and imposing peace condition was set for Iraq. However in Iran after two decade still the victim of chemical warfare of Saddam dies everyday. The use of chemical warfare against Iran was a crime that went down in the history of human being, which the International Organizations closed both eyes




genoside of helebce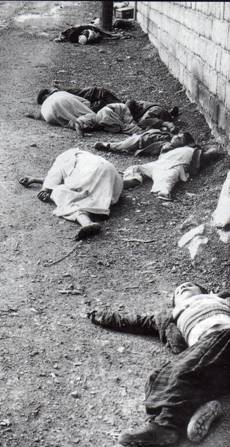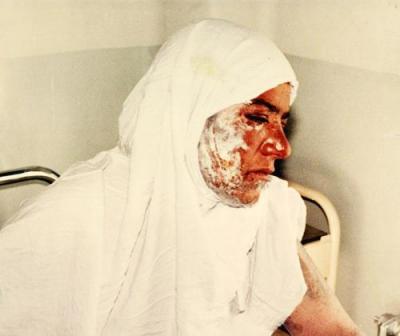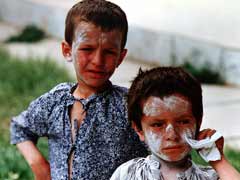 نويسنده ويا گرد آوري كننده
Mon 20 Jul 2009
&nbsp |